Celebration 100 year Town hall in Bunschoten
On 17 May 1915, the first meeting of the council of the city of Bunschoten-Spakenburg was held in the newly built town hall.
This event was commemorated on 18 May 2015, together with the present council of Bunschoten. A meeting of the council, chaired by the present mayor of Bunschoten was held in the same setting as 100 years ago. The participants were wearing the traditional costumes of 1915. The meeting was chaired by the present mayor of Bunschoten, Mr. Melis van de Groep.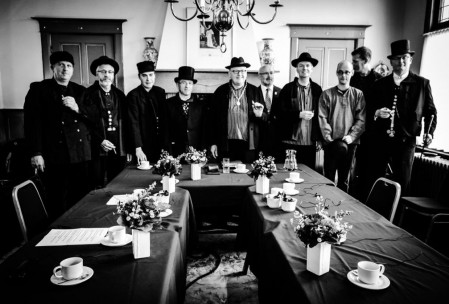 Enabling the companies located in Bunschoten to get some more information on the activities of Develing International, on 19 May 2015 we organized a meeting. A short introduction was given by Mr. Ronald Develing on the history of the company, followed by a presentation of Simon Scheepsma on our present activities. Mr. Peter van Leeuwen, who has been working as Commercial Counsellor of the Dutch Embassy in Beijing, Consul General in Germany, Ambassador in Abidjan, Almaty, Baghdad, Astana and Acting Head Embassy Office Erbil. Mr. Peter van Leeuwen explained the advantages of the support of diplomatic offices like Embassies and Consulates to the Dutch companies who want to investigate business opportunities abroad.
On 20 May 2015, the mayor of Bunschoten received in the 9 couples who had been married for 50 years, in the room where in the past wedding ceremonies took place. 3 out of the 9 ladies are still dressed in the traditional costume. Each couple was personally addressed by the mayor.